This culture tour is one of the activities of Community Cultural Development Organization (KC&CDO), a NPO founded by the people of Kaday Village.
At the entrance of the village, participants will be greeted by the village's tour guides in traditional attire and escorted by them walking through the stone paved paths all the way to "p'eebaay", the village meeting place.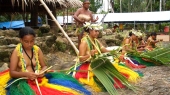 There participants will receive welcome flower leis and fresh coconut drinks from the girls and boys of the village. All of the villagers who perform the culture tour are in Yapese traditional attire. Participants are welcome to take pictures of the people, flora and fauna, traditional architecture such as "p'eebaay", "faeluw", men's house that stood on the shore and valuable stone discs in "malaal", dancing place.
Meanwhile, weaving performance by ladies, coconut husking and betel nut tree climbing by boys will be performed. Participants are welcome to join the activities and ask questions. Then and finally a traditional dance practice by the village children will be performed at last.
Currently, Kaday Village Culture Tour will be held on Saturdays, only when the village gets a minimum of 6 participants. Departing hotels in Colonia at 4:30 p.m. and returning to Colonia around 7:00 p.m.
Sign up for a tour will be closed by noon of the day before (Friday) and a determination of performance will be made and announced by the evening on that day.
A private culture tour can be arranged other than Saturdays. Ask for arrangement at least 3 weeks prior to your arrival.
Tour Rates:
Tour Name
Regular Rate
Early Bird
Includes: Transportation from and back to hotels (within Colonia only), village tour guides, traditional skills presentation, traditional dance performance, flower leis, coconut and fruits.


Note: Cancellation after village decision of performing a tour will not be accepted.

      
Regular Kaday Village Culture Tour is currently discontinued for undetermined duration.
N/A
N/A
Private Culture Tour
Ask for quotation.
Ask for quotation.
Tours Activities
>>
Scuba Diving
>> Snorkeling
>> Walking
>> Kayaking
>> Fishing
Hotels
About Tide
- Water activities in Yap are highly influenced by the tidal movement. If you plan to dive in Yap, it will be nicer to consider the moon phases that meet your purpose.

- Starting time of every boat tour varies daily according to the tidal movement.
Advance Reservations
- Reservations at least 2 days in advance are encouraged to fully meet your request.
- Reservations that are confirmed before 22 days prior to the tour date will receive early bird discount.
- Reservations that are confirmed after 21 days prior to the tour date will remain list prices.
Make Reservations?
>> Contact