Under the thatched roof surrounded by rich greens, Oceania Hotel gives an atmosphere that makes you feel like you're in a village house while in Colonia. Each cottage has a private veranda overlooking Colonia Lagoon.

The rooms are built one room per cottage and room types are single, twin and double. Beside the private balcony, each room is equipped with air conditioning, ceiling fan, mini-fridge and a hot shower and toilet. Free Internet (Wi-Fi) access is available in the vicinity of the front desk. Please ask for the password upon your arrival.

Currently the restaurant serves breakfast for hotel guests only and dinner for public. Also there are some stores nearby selling local/imported food and all kinds of groceries.

Because it is a wooden cottage in a lot of vegetations, there may be some visitors in the rooms such as lizards and geckos. Also in certain times of mornings and evenings, please be careful so as not to let the balcony and the entrance doors open.

※This hotel was used to be known as Pathways Hotel, then it has been renovated and re-opened after the ownership change.
Inquiry Form for Tour & Hotel Package
The form below may help for any inquires or reservation request. Please note that this form will not work if your PC, smart phone or cell phone does not have an email set up. In that case, please copy & paste
info@naturesway.fm
and contact us. You may leave items blank other than the ones marked with **. However, the detailed information of yours will help us better support your needs. Usually we will respond within 72 hours.
Location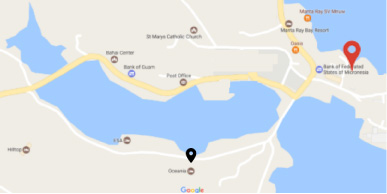 Nature's Way
Oceania Hotel
Contact

Phone: (691)350-7707


Other Hotels & Restaurants
Tours Activities
>>
Scuba Diving
>> Snorkeling
>> Culture Tour
>> Walking
>> Kayaking
>> Fishing
Rate and Reservation Policy
All Nature's Way tours are based on advanced reservations. Unless special circumstances, please make a reservation by 4:00 p.m. 2 days prior to the tour date.
- A tour booked within 21 days up to 2 days prior to the tour date will be regular tour rate.
- A tour booked and confirmed with a deposit before 22 days prior to the tour date will receive early bird discount.
Reservation & Inquiry
>> Contact