In Yap, many tropical flowers are in bloom all year round and the people love to wear leis made out of them, no matter what their ages or genders are. Leis, locally called as "nuunuw", are not only for adornment but are also used for welcoming or sending people. "Nunuuw" is made with two important outcomes in mind; one is the combination of the flowers' and/or leave's fragrances and the other is the display of the flowers' colors.
There are many ways to make "nuunuw". In this course, you will experience an orthodox way using 4 strings. Even after the flowers and leaves are dried up, you still can enjoy "nuunuw" for a while with its fragrance by hanging in a room.
It's like braiding, knitting or beading! The work may require a little patience but you will be catching up soon. Your instructor will help step by step to make everyone complete the job. By wearing your own "nuunuw", a sense of achievement would also be great!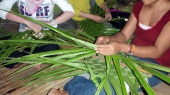 Weaving baskets out of coconut leaves is still one of the important daily skills in Yap. Size and shape varies depending on the purpose such as for harvesting taro, carrying catches from fishing or gift container, etc. After the initial use, it can be reused several times for other purposes, then becomes a trash container and finally can be laid in a garden to be fertilizer. The ideal eco-cycle!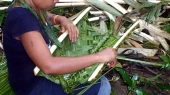 When knitting the leaves, you might wonder how it makes a basket. The answer comes at close to the last moment when the petiole is cut open after all the woven work is done. Carrying your newly completed basket, you will find people admiring you're going "island style".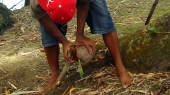 Copra, ripe coconut fruits, is one of the important food stocks in Yap. After husked, the meat is grinded, squeezed and made into coconut milk for cooking or coconut oil. Also the meat is main feed for pigs.
The outer husks and shells of coconut are dried and kept for fuel. Any local food cooked by open fire taste very different, tasted the best. This is why most of the local houses keep open fire spots outside of the house even when they have nice kitchens inside.
The recipe for our local cooking varies depending on the food materials on hand but always comes with local fish, variety of vegetables and taro/yam/breadfruits, etc.
Tour Rates:
Tour Name
Regular Rate
Early Bird
Includes: All necessary tools, materials and entrance fees, skill instructions, hotel (within Colonia only) pick-ups and lunch for A and B.


Surcharge for single participant: $35.00 for A and $15.00 for B

      
Experience Island Skills A
Flower lei braiding, coconut leaf basket knitting and local food cooking using open fire on a beach
$110.00
$99.00
Experience Island Skills B
Flower lei braiding and coconut leaf basket knitting on a beach
$75.00
$68.00
Experience Island Skills C
Flower lei braiding and coconut leaf basket knitting in Colonia
$30.00
N/A
Experience Island Skills D
Flower lei braiding or coconut leaf basket knitting in Colonia
$20.00
N/A
Experience Island Skills Special
Ask for skills you wish to experience!
Ask for details
Ask for details
Tours Activities
>>
Scuba Diving
>> Snorkeling
>> Culture Tour
>> Walking
>> Kayaking
>> Fishing
Hotels
About Tide
- Water activities in Yap are highly influenced by the tidal movement. If you plan to dive in Yap, it will be nicer to consider the moon phases that meet your purpose.

- Starting time of every boat tour varies daily according to the tidal movement.
Advance Reservations
- Reservations at least 2 days in advance are encouraged to fully meet your request.
- Reservations that are confirmed before 22 days prior to the tour date will receive early bird discount.
- Reservations that are confirmed after 21 days prior to the tour date will remain list prices.
Make Reservations?
>> Contact