One of the biggest excitements is to dive in the channels with giant mantas hovering just above you. Diving in the outer reef may mesmerize you with the warm soothing water, clear visibility, and generally mild currents. You may want to identify strange creatures, big or small, take photographs, or just meditate in the underwater paradise!
Geography & Climate: A cluster of four islands connected by roads, waterways and channels are surrounded by a broad mostly shallow fringing reef. Since the location is just 9 degrees north of the equator, the water temperature always stays around 26C ~ 28C / 80F ~ 85F, generally the highest water temperature falls from the month of August through October and the lowest from February through April plus a couple days after heavy rainfalls.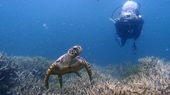 Seasonal Changes: When the trade winds pick up, usually from November to April, there will not be much rain and the lands dry up. During this season, divers may have a great opportunity to observe the mantas' mating behavior at M'il Channel in the north west of the island. But due to the strong winds and rough water, most of the dive sites on the east coast will be closed.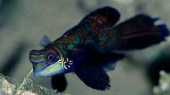 When the winds moderate usually from May to October, there will be brief rain showers several times a day and the lands are dressed in fresh green vegetation. During this season, the mantas gracefully hover over the cleaning stations at Gofnuw Channel in the northeast of the island. There will be many days when divers can see that the water is flat calm like a swimming pool all over around the island, especially in the months of late June and July.
Tide Timing: Because of the island's geographical features, diving in Yap is very influenced by the tide. Generally the best tide timing is when the slack high falls around 10:00 a.m. to 12:00 p.m. In order to have an ideal timing, please check the tide calendars & tide predictions or just inquire us by email. You may also roughly plan to come to Yap 2 - 3 days after the new moon or the full moon. Then you will enjoy 2 tank morning dives in clear water for a couple days thereafter.
Starting time also varies daily according to the tidal movement. Please check the schedule in advance for any boat tours.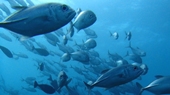 In order to ensure your enjoyment and safety to the fullest and to hold your impact on aquatic life to the minimum, Nature's Way would like to suggest some tips...
Tour Rates:
Tour Name
Regular Rate
Early Bird
Includes: Tank(s), weight & belt, boat, guide, iced drinking water, hot tea, hotel (within Colonia only) pick-ups and snacks on board. Island Style Lunch for additional 3rd dive if arranged in advance.


Surcharge for single participant: $35.00 except for 2-tank Day Trip

        
1 Dive Day Trip
$80.00
$72.00
2 Dives Day Trip
$140.00
$126.00
Additional Dive (daytime only)
$50.00
$45.00
Sunset Mandarinfish Dive
$70.00
$63.00
Night Dive
$80.00
$72.00
Refresher Diver Course
$165.00
$148.00
Other Diving Instructions
Please contact...
Please contact...
| Equipment | Daily | Weekly |
| --- | --- | --- |
| Full Equipment | $40.00 | $180.00 |
| Regulator | $10.00 | $45.00 |
| BCD | $10.00 | $45.00 |
| Dive Computer | $10.00 | $45.00 |
| Mask & Snorkel | $5.00 | $22.00 |
| Fins | $5.00 | $22.00 |
| Wetsuit | $7.00 | $32.00 |
Tours Activities
>> Snorkeling
>> Culture Tour
>> Walking
>> Kayaking
>> Fishing
Hotels
About Tide
- Water activities in Yap are highly influenced by the tidal movement. If you plan to dive in Yap, it will be nicer to consider the moon phases that meet your purpose.

- Starting time of every boat tour varies daily according to the tidal movement.
Advance Reservations
- Reservations at least 2 days in advance are encouraged to fully meet your request.
- Reservations that are confirmed before 22 days prior to the tour date will receive early bird discount.
- Reservations that are confirmed after 21 days prior to the tour date will remain list prices.
Make Reservations?
>> Contact