ESA Bay View Hotel
Neat and clean standard type hotel with private balcony is located on south side of the lagoon. The family owned hotel is started in 1970 with a small two-story building and in 1998 the present three-story building with 22 rooms and restaurant was completed.
The lobby with casual atmosphere connects to the restaurant, backyard garden hut and beauty shop. Wi-Fi through the hotel office LAN is available around the lobby area. Please contact the front desk for the user name and password. Also, most of the rooms have access to FSMTC Wi-Fi which requires prepaid card.
Behind the lobby, there are small huts beside the water surrounded by plants. As long as not occupied, they are open to the hotel customers. It will be nice to have meeting and chatting with friends, or relaxing alone. They can be used in various ways.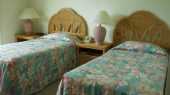 Several room types are: single room, twin room with two single beds, double room with one queen-size bed, and deluxe room with one king-size bed but without balcony. There are only two rooms that come with a twin and single bedrooms for triple use.
Every room is quite wide and equipped with a large closet, air conditioning, big rest room with bath tub with hot water/shower. Also has private balcony in most of the room.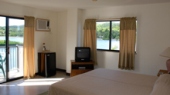 Room cleaning and towel exchange is offered daily unless exempted by the customers. ESA Bay View Hotel is known to be the cleanest hotel in Yap.
Inquiry Form for Tour & Hotel Package
The form below may help for any inquires or reservation request. Please note that this form will not work if your PC, smart phone or cell phone does not have an email set up. In that case, please copy & paste
info@naturesway.fm
and contact us. You may leave items blank other than the ones marked with **. However, the detailed information of yours will help us better support your needs. Usually we will respond within 72 hours.
Location

Nature's Way
ESA Bay View Hotel
Contact

Phone: (691)350-2139
Fax: (691)350-2310


Other Hotels & Restaurants
Tours Activities
>>
Scuba Diving
>> Snorkeling
>> Culture Tour
>> Walking
>> Kayaking
>> Fishing
Rate and Reservation Policy
All Nature's Way tours are based on advanced reservations. Unless special circumstances, please make a reservation by 4:00 p.m. 2 days prior to the tour date.
- A tour booked within 21 days up to 2 days prior to the tour date will be regular tour rate.
- A tour booked and confirmed with a deposit before 22 days prior to the tour date will receive early bird discount.
Reservation & Inquiry
>> Contact