Located in the center of Colonia, O'Keefe's Waterfront Inn is a petite hotel with only 5 rooms, built by elaborate wooden architecture pursuing Colonial-style of the 19th century.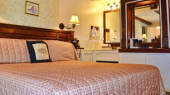 Room types are single, twin (with two single beds) and double. The floor space is not so large, but various measures make the room feel spacious enough. All the rooms are equipped with air-conditioning, hot shower & toilet, TV/DVD unit and private seaside veranda with equipment dry cabinet for divers.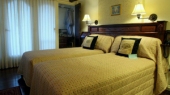 The hotel's bar lounge serves relaxing atmosphere with various drinks. Several restaurants and variety of stores are within a few minutes' walking distances providing convenience for eating & shopping.

Inquiry Form for Tour & Hotel Package
The form below may help for any inquires or reservation request. Please note that this form will not work if your PC, smart phone or cell phone does not have an email set up. In that case, please copy & paste
info@naturesway.fm
and contact us. You may leave items blank other than the ones marked with **. However, the detailed information of yours will help us better support your needs. Usually we will respond within 72 hours.
Location

Nature's Way
O'Keefe's Waterfront Inn
Contact

Phone: (691)350-6500
Fax: (691)350-4577


Other Hotels & Restaurants
Tours Activities
>>
Scuba Diving
>> Snorkeling
>> Culture Tour
>> Walking
>> Kayaking
>> Fishing
Rate and Reservation Policy
All Nature's Way tours are based on advanced reservations. Unless special circumstances, please make a reservation by 4:00 p.m. 2 days prior to the tour date.
- A tour booked within 21 days up to 2 days prior to the tour date will be regular tour rate.
- A tour booked and confirmed with a deposit before 22 days prior to the tour date will receive early bird discount.
Reservation & Inquiry
>> Contact