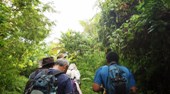 From the wetland areas covered by mangroves on shorelines, semi-agricultural forests to dry savannah, vegetation in Yap varies depending on the environment.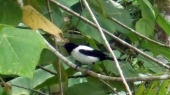 For bird watching, walking early in the morning will be the best. When walking into thick jungle area via a stone paved path of a village, you will find yourself surrounded by the lively twitter of birds. Yap monarch (Monarcha godeffroyi) and Micronesian fantail are often seen.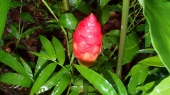 It is also good timing for finding a variety of mushrooms and rare flowers before morning dew dries up. Finding carnivorous pitcher plant (Nepenthes rafflesiana) quietly waiting for insects or secretly blooming bitter ginger (Zingiber zerumbet) may give another pleasure.
When coming out on top of the vantage hill after walking through dense jungle, get timely view of double rainbows! You might sometimes get rain a while during walking but it may turn out blessed to such a lucky chance!
Since the highest peak of Yap is 178m/584ft, hiking is relatively mild, reaching soon to the top of the savannah hills and getting view of wide open ocean. There are also several war relics from WWII to be explored during walking tours for those with historical interests.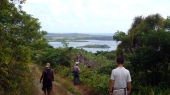 There are two categories of walking tours according to duration and course. Depending on your interest and purpose of walking, we will guide you to choose a course from several options.
Tour Rates:
Tour Name
Regular Rate
Early Bird
Includes: Necessary entrance fees, guide, hotel (within Colonia only) pick-ups and a bottled water.


Surcharge for single participant: $15.00

      
Walking Course A (3~3.5 hrs.)
$45.00
$40.00
Walking Course B (2~2.5 hrs.)
$35.00
$32.00
Tours Activities
>>
Scuba Diving
>> Snorkeling
>> Culture Tour
>> Kayaking
>> Fishing
Hotels
About Tide
- Water activities in Yap are highly influenced by the tidal movement. If you plan to dive in Yap, it will be nicer to consider the moon phases that meet your purpose.

- Starting time of every boat tour varies daily according to the tidal movement.
Advance Reservations
- Reservations at least 2 days in advance are encouraged to fully meet your request.
- Reservations that are confirmed before 22 days prior to the tour date will receive early bird discount.
- Reservations that are confirmed after 21 days prior to the tour date will remain list prices.
Make Reservations?
>> Contact