Ganir Restaurant
Ganir Restaurant locates on the 2nd floor of Yap's only shopping mall in YCA building. Open 8 am to 8 pm from Monday through Friday, 8 am to 1 pm on Saturdays and closed on Sundays.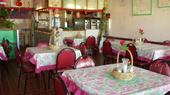 Because of its location, lunch time on week days are quite busy but the evenings are relatively quiet and may close earlier if no customer is around. If you plan to have dinner, visit them at least 30 minutes before its closing time.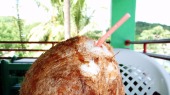 There are air-conditioned indoor tables and a wide open-air lounge. After crowded lunch time, it maybe a good idea that you relax in the lounge sipping a fresh coconut feeling a fresh breeze viewing Tamil plain across the lagoon.

Some Popular Dishes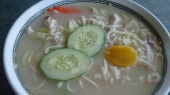 Regular Fish Udong
Noodles are very popular menu for all restaurants in Yap. Customers can select their favorite toppings from fish, chicken, pork or beef. Usually "special" comes with a Sunnyside-up egg, while "regular" does not.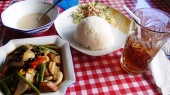 Fish Tausi
Stir-fried fish fillet and vegetables seasoned with tausi, fermented black beans. Also customers can select meat from chicken, pork or beef.

Fish Bergar
Deep-fried breaded fish fillet and shredded veggies topped with sweet sour dressing. Kind of fish will vary depending on catch.

Location

Nature's Way
Ganir Restaurant
Contact

Phone: (691)350-7940
Other Hotels & Restaurants
Tours Activities
>>
Scuba Diving
>> Snorkeling
>> Culture Tour
>> Walking
>> Kayaking
>> Fishing
Rate and Reservation Policy
All Nature's Way tours are based on advanced reservations. Unless special circumstances, please make a reservation by 4:00 p.m. 2 days prior to the tour date.
- A tour booked within 21 days up to 2 days prior to the tour date will be regular tour rate.
- A tour booked and confirmed with a deposit before 22 days prior to the tour date will receive early bird discount.
Reservation & Inquiry
>> Contact