Oasis Restaurant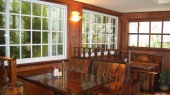 Oasis Restaurant locates in the center of Colonia across the street from O'Keefe's Waterfront Inn. Open at 7 am to 9 pm from Monday through Friday and basically closed on weekends.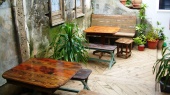 Only 8 tables in the air-conditioned indoor floor but the interior elaborate woodworks make the space felt wider. There are also some open-air tables in the backyard.

Some Popular Dishes
Lumpia Veggie
Fresh fried lumpia, or spring roll, stuffed with mainly veggies comes with garlic vinegar. There is Lumpia Shanghai with beef for meat lovers.

Spiced Sashimi
Fresh fish fillet surface is lightly roasted and seasoned with wasabi based spices and sauce. This is one of the original recipes of Oasis Restaurant.

Coconut Cream Chicken
Chicken filet cooked with coconut cream sauce comes with green salad and a choice of rice or baked potatoes. You may choose fish or pork as other options.

Breaded Fish
Deep-fried breaded fish fillet as a side order or appetizers is served quite an amount!

Hototoy Soup
An original soup with a lot of veggies, seafood, pork and eggs is served in a big bowl, good enough for 3 to 4 servings.

Regular Fish Udong
Instant ramen noodles are very popular menu for all restaurants in Yap. Customers can select their favorite toppings from fish, chicken, pork or beef. Usually "special" comes with a Sunnyside-up egg, while "regular" does not.

Location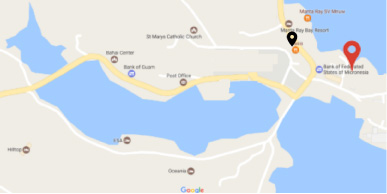 Nature's Way
Oasis Restaurant
Contact

Phone: (691)350-8852
Other Hotels & Restaurants
Tours Activities
>>
Scuba Diving
>> Snorkeling
>> Culture Tour
>> Walking
>> Kayaking
>> Fishing
Rate and Reservation Policy
All Nature's Way tours are based on advanced reservations. Unless special circumstances, please make a reservation by 4:00 p.m. 2 days prior to the tour date.
- A tour booked within 21 days up to 2 days prior to the tour date will be regular tour rate.
- A tour booked and confirmed with a deposit before 22 days prior to the tour date will receive early bird discount.
Reservation & Inquiry
>> Contact